Guided Hike with Elfin Forest Recreational Reserve Docent Randy Boyer
Join Randy Boyer for a moderately strenuous (exercise oriented), long-distance hike at Elfin Forest Recreational Reserve. Hiking groups will depart from the Elfin Forest Interpretive Center Honoring Susan J. Varty at 8:15 a.m. (please arrive at 8:00 a.m.) and will return to the main lot in approximately three to five hours.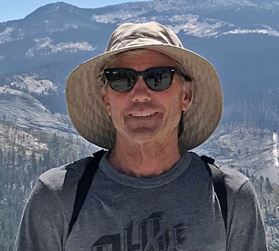 RANDY BOYER
Participants are urged to come prepared for a moderately strenuous hike that will maintain a pace of 2.5 mph. Randy's hikes are fast-paced, long, and not recommended for young children. Randy is a tour guide at San Diego Botanic Garden, and has many years of hiking and backpacking experience in the Lake Tahoe basin, North Lake Tahoe, eastern Sierra, Yosemite, Death Valley, Joshua Tree, eastern Arizona, and western Utah.
Hikers will be treated to a guided tour of almost everything that Elfin Forest has to offer! So, grab your boots and hiking sticks, fill your water bottles, bring trail snacks, and head out to Elfin Forest Recreational Reserve!
2023 Hikes
January 15, Route #9 (canceled due to rain)
February 26, Route #3 (canceled due to rain)
March 26, Route #9
April 23, Route #6
May 28, Route #7
June 25, Route #8
July 23, Route #2 (Substitute Hike Leader Rich Riemer)
August 27, Route #5
September 24, Route #6
October 22, Route #7
November 19, Route #8
December 17, Route #3