Welcome
to Elfin Forest
Recreational Reserve
Our Mission

Olivenhain Municipal Water District is devoted to the safe operation of the Reserve and to providing all visitors with a unique recreational, educational, and environmental experience.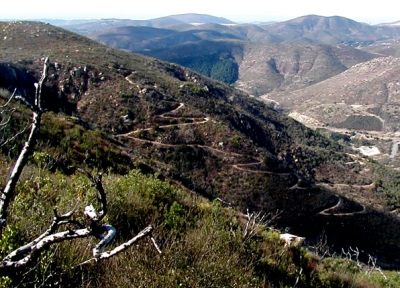 One of San Diego County's most precious natural resources, the Reserve offers approximately 11 miles of hiking, mountain biking, and equestrian trails, as well as picnic areas and scenic mountain viewing points. In addition, the natural beauty of the Reserve includes such native plant communities as oak riparian, oak woodland, coastal sage scrub, and chaparral. All wildlife and natural resources at the Reserve are fully protected so that future generations may also enjoy these wonders.
The 784-acre reserve was developed by OMWD in partnership with San Diego County Water Authority and US Department of the Interior – Bureau of Land Management, as an element of the Olivenhain Water Storage Project and the Authority's Emergency Storage Project. Owned by the Authority and managed by OMWD, the Reserve has been designed to unify the interests of domestic water supply development, natural resources management, and recreational opportunities.
The Reserve first opened in 1992 and sits within the Escondido Creek watershed, which flows year-round from Lake Wohlford to San Elijo Lagoon. The creek runs adjacent to the Reserve's staging area, giving all visitors an opportunity to pass over it as they begin their hike or ride from the trailhead. The Reserve also boasts six designated overlooks, each with a shade structure and/or picnic tables and views of the Pacific Ocean, Channel Islands, Coronado Islands, the Laguna and San Bernardino mountain ranges, and Olivenhain Dam and Reservoir. Other amenities include portable restrooms and drinking fountains. Whether hiking, biking, riding, or just relaxing, experiencing one of the few remaining rural areas in North County is a great way to spend the day.
The Reserve's rangers and volunteers conduct guided group tours and student exploration programs to help promote environmental awareness and preservation of local watersheds and heighten knowledge of the natural surroundings.
Save